Alyssa Thompson, 18, was among 23 players selected Wednesday for the United States team that will defend its title at the Women's World Cup next month.
Thompson, who has been impressive this season as a rookie for Angel City in the National Women's Soccer League, joins veterans Alex Morgan and Megan Rapinoe on manager Vlatko Andonovski's shortlist.
"We want to do something that has never been done before. We believe in the quality of the team and the support we have and we believe we have what it takes to make it happen," Andonovski said of the chance to win a third consecutive World Cup. cup title.
The players were introduced with a star-studded social media post that included President Joe Biden, First Lady Jill Biden, Taylor Swift, Lil Wayne and Megan Thee Stallion.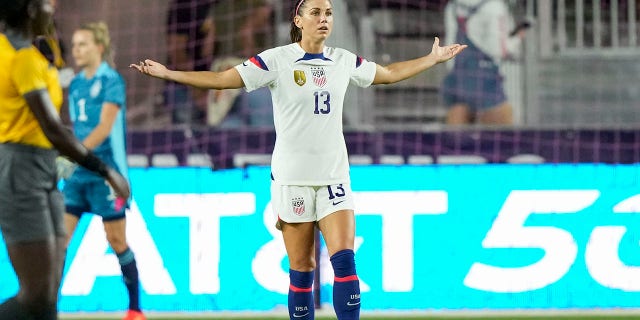 Morgan, 33, and Rapinoe, 37, will make their fourth World Cup appearance.
Defender Kelley O'Hara, 34, also earned a spot on her fourth World Cup squad as a veteran presence to bolster the back line in the absence of veteran defender and team captain Becky Sauerbrunn, who announced the last week that he will not play in the World Cup due to a persistent foot injury.
The tournament begins on July 20 in Australia and New Zealand. The Americans are in Group E with Vietnam, the Netherlands and Portugal. The United States opens with Vietnam on July 22 in Auckland.
The team has been hit by injuries in the run up to the event. In addition to Sauerbrunn, the United States will be without forward Mallory Swanson, who tore the patellar tendon in her left knee. Swanson has scored seven goals this year before picking up an injury in an April exhibition game against Ireland.
PETA CALLS ON FIFA TO REMOVE BUDWEISER AS WORLD CUP OFFICIAL BEER SPONSOR OVER ALLEGED TREATMENT OF CLYDESDALES
Catarina Macario, a talented forward who tore her ACL last year while playing for her French club Lyon, did not recover in time for a place in the team. Midfielder Sam Mewis also has a nagging injury and was unavailable for the World Cup.
CLICK HERE FOR MORE SPORTS COVERAGE ON FOXNEWS.COM
Some of the youngsters include Sophia Smith, 22, who was named NWSL Most Valuable Player and US Soccer Player of the Year for 2022, and Trinity Rodman, 21, US Soccer Young Player of the Year for 2021 and daughter of former NBA star Dennis Rodman.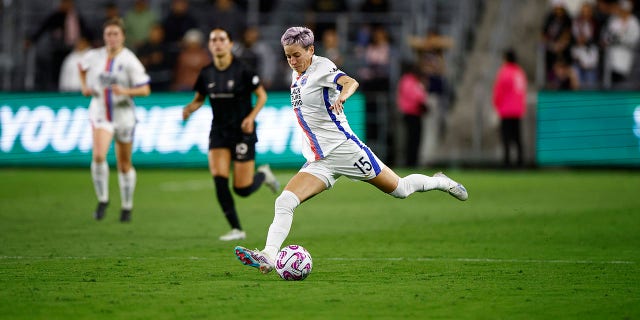 Thompson is the second-youngest player to be named to a World Cup roster, behind US assistant coach Tiffany Roberts Sahaydak, who played in the 1995 World Cup. Thompson was called up to the team early April for a match against Ireland, taking Swanson's place.
«Alyssa, what a turn of events in the last nine months. If you think back to October, she was playing youth soccer and now, in July, she's going to be on the biggest stage in women's soccer,» Andonovski said in a conference call. with reporters.
Midfielder Julie Ertz, who was on the team that won the title in 2019, made the squad after returning to the team in April after a long layoff for the birth of her son.
A surprise inclusion on the list was 25-year-old Savannah DeMelo, who has yet to appear in a game for the United States. DeMelo plays for Racing Louisville in the NWSL and has scored in three of the last four NWSL games. She has five total goals this season.
DeMelo is only the third player from the US to be named to a World Cup team without playing in an international-level game.
«His performance in the league was one of the main reasons why he is in the team,» Andonovski said. «And based on the needs that we have in terms of the opponents and the different situations that we may face, we see that Sav is very important for us going forward.»
The payroll by position with club affiliation:
Goalkeepers: Aubrey Kingsbury (Washington Spirit), Casey Murphy (North Carolina Courage), Alyssa Naeher (Chicago Red Stars)
Defenders: Alana Cook (OL Reign), Crystal Dunn (Portland Thorns), Emily Fox (North Carolina Courage), Naomi Girma (San Diego Wave), Sofia Huerta (OL Reign), Kelley O'Hara (Gotham), Emily Sonnett ( OL reign).
Midfielders: Savannah DeMelo (Racing Louisville FC), Julie Ertz (Angel City), Lindsey Horan (Lyon), Rose Lavelle, (OL Reign), Kristie Mewis (Gotham), Ashley Sanchez (Washington Spirit), Andi Sullivan (Washington Spirit) .
CLICK HERE TO GET THE FOX NEWS APP
Forwards: Alex Morgan (San Diego Wave), Megan Rapinoe (OL Reign), Trinity Rodman (Washington Spirit), Sophia Smith (Portland Thorns), Alyssa Thompson (Angel City), Lynn Williams (Gotham FC).