It was one of the worst shooting games of the season for the Miami Heat, by far: 39% from the field, 22% from 3-point range, just 50% on usually easy shots.
It did not matter.
The defense, which remains the staple of the Heat even in these high-scoring days in the NBA, pulled through and pulled Miami within two wins of another trip to the Eastern Conference finals.
Jimmy Butler returned from his sprained right ankle to score 28 points, Max Strus added 19 and the Heat beat the New York Knicks 105-86 on Saturday to take a 2-1 lead in their East semifinal series.
CLICK HERE FOR MORE SPORTS COVERAGE ON FOXNEWS.COM
«It's all about figuring out how to compete at a really high level,» Heat coach Erik Spoelstra said. «What it takes for that game to win.»
As bad as the Heat's shooting, the Knicks were worse: 34% from the field, 20% from 3-point range, 46% from the restricted area around the rim.
CELTICS SPOIL JOEL EMBIID'S MVP CELEBRATION WITH GAME 3 WIN AGAINST 76ERS
And that was the story.
«You have to win games in different ways,» Heat guard Kyle Lowry said. «In the playoffs, as I've said many times and for many years, every game is very different. And this is one of those games where we held them down… To win by a half point, one point, two points, 20 points, it's about winning the game no matter what.»
Jalen Brunson scored 20 for New York, which got 15 from Josh Hart, 14 from RJ Barrett and 12 from Immanuel Quickley, who left midway through the fourth quarter after spraining an ankle that will be re-evaluated Sunday. Julius Randle added 10 points and 14 rebounds for the Knicks.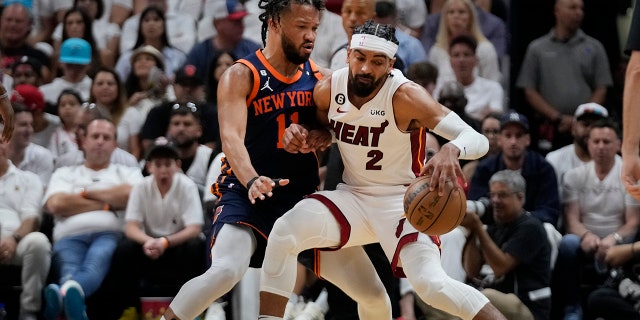 Game 4 is Monday.
«We couldn't stop early, so we couldn't get easy buckets,» Knicks coach Tom Thibodeau said. «So, we pay the price.»
Bam Adebayo had 17 points and 12 rebounds for Miami, and Lowry added 14 points as the Heat never trailed. Duncan Robinson led off the second quarter with a 3-pointer, giving Miami an 11-point lead, and the lead stayed in double digits the rest of the way.
MIKE BUDENHOLZER, BUCKS FIRE HEAD TRAINER AFTER ROUND ONE, REPORT
«Hopefully we can get back on track and figure out a way to make some shots next game and come out with a win,» Randle said.
There was even a fight between the Heat and the Knicks under a basket, just like the good old days of the teams' playoff rivalry, although this one is nothing like PJ Brown flipping Charlie Ward in 1997 to start. a mess that cleared the bench that led to suspensions. , or Jeff Van Gundy pulling Alonzo Mourning's leg in 1998.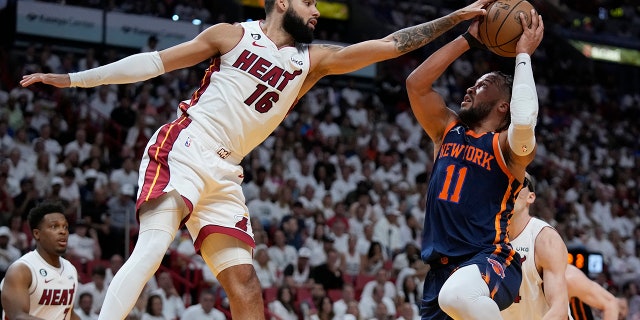 This one, such as it was, came with 14.7 seconds left in the third after a Quickley layup brought the Knicks within 87-70.
Randle and Cody Zeller got tangled up as they battled for rebounding position. Randle ended up getting pushed to the ground, Isaiah Hartenstein got offended and pushed Zeller, Caleb Martin got offended and pushed Hartenstein and it took about five minutes to fix a mess that lasted about five seconds.
The final tally: technical offsets on Zeller and Hartenstein, plus a technical on Martin. Randle missed the free throw. And right after it happened, Butler was doing a little dancing, enjoying the aftermath of the show.
CLICK HERE TO GET THE FOX NEWS APP
«Much ado about nothing,» Spoelstra said.
Butler missed Game 2 with a sprained ankle and limped at times in the second half Saturday, but was effective throughout. He scored 10 points in the first quarter as Miami set the tone on both ends; the Heat made 10 of their first 15 shots, the Knicks missed 13 of their first 17, and it took New York until the middle of the second quarter to hit a shot from anywhere but the paint.