On Thursday, a group of current and former female athletes delivered a demand letter to NCAA calling for an end to the practice of allowing biological male athletes to compete on women's teams.
A letter of petition and demand was delivered by hand by the former Kentucky swimmer Riley Gaines to the NCAA, demanding that it «take direct and immediate action to establish rules to keep women's college sports female.»
«In the world of college sports, it is impossible to provide equal opportunity for both genders (as required by Title IX) without women-only teams,» the letter states. «Yet the NCAA implements and perpetuates a policy of allowing male athletes to be part of women's teams, even as sports governing bodies and federal courts increasingly reject these unfair and inequitable policies that exclude young women from their own teams.
The demand letter was read outside the NCAA convention in San Antonio, Texas, on Thursday, threatening legal action if the NCAA doesn't «protect female athletes from discrimination on the basis of sex.»
THE WORLD BOXING COUNCIL TO CREATE A SEPARATE TRANSGENDER LEAGUE IN 2023 THAT FOLLOWS THE 'AT BIRTH' RULE
«The NCAA doesn't get to choose which laws to follow,» says Marshi Smith, NCAA champion and co-founder of ICONS. «They must protect female athletes from discrimination on the basis of sex, or expect us to be forced to take legal action to force them to do so.»
The letter requires the NCAA to «revoke all policies and rules that allow male athletes to hold roster spots on women's teams and/or compete in women's events.»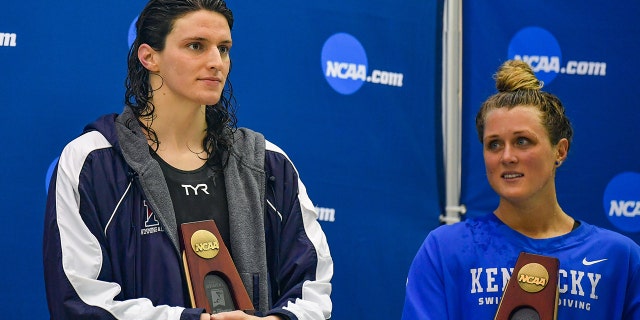 It also calls for rules to «keep women's sports female» and for the NCAA to require colleges to provide single-sex locker rooms for female athletes.
Gaines, who competed against Lia Thomas last year, the first transgender athlete win a national title – also spoke Thursday, calling on the NCAA to stop discriminating against female athletes.
CLICK HERE FOR MORE SPORTS COVERAGE ON FOXNEWS.COM
«Today, we intend to personally tell the NCAA to stop discriminating against female athletes by serving them with a petition that we've gotten nearly 10,000 signatures on in just a couple of days,» Gaines said Thursday.
The NCAA updated its transgender participation policy last January to submit to the guidance of the governing body of each sport. The NCAA announced that its policy would go into effect in March, beginning with the Division I Women's Swimming and Diving Championships.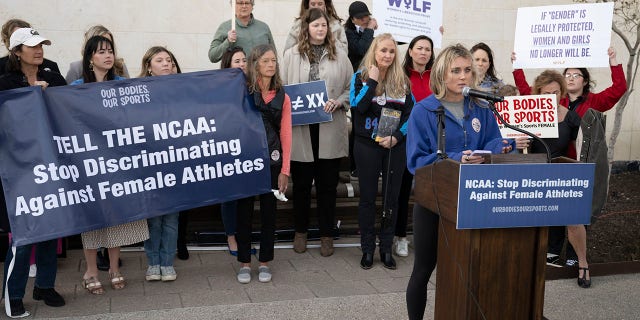 CLICK HERE TO GET THE FOX NEWS APP
USA Swimming updated its policy shortly after requiring transgender athletes competing at an elite level to have low testosterone levels (half of what Thomas was allowed to compete in) for at least 36 months before being eligible, but The NCAA said weeks later that the Administrative Subcommittee of the Committee on Competitive Safeguards and Sports Medical Aspects (CMAS) decided it would not alter its guidance on testosterone, saying that «implementing additional changes at this time could have unfair and potentially detrimental impacts on the schools and student-athletes intending to compete in the 2022 NCAA Women's Swimming Championships.»
Ryan Gaydos of Fox News and the Associated Press contributed to this report.