Two protesters briefly halted play during a men's singles first round match at Wimbledon on Wednesday after storming onto the grass field, scattering confetti and puzzle pieces in the process.
Wimbledon organizers issued a statement on Wednesday announcing that two Just stop the oil The protesters were arrested and charged with suspicion of aggravated trespassing and criminal damage after a demonstration at Court 18.
The group also issued a statement, sharing a video of the moment and the purpose behind the demonstration.
TENNIS STAR VICTORIA AZARENKA HAS A TENSE EXCHANGE WITH WIMBLEDON REPORTER OVER RUSSIA QUESTION
«At 2:08 p.m., two supporters of Just Stop Oil ran onto court 18 at the wimbledon tennis championships, interrupting the match between Sho Shimabukuro and Grigor Dimitrov by throwing eco-friendly orange confetti glitter and puzzle pieces onto the courts before being removed.»
«Today's action comes as @metoffice confirmed on Monday that this June has been the hottest on record, with an average monthly temperature of 15.8°C beating the previous record set in 1976 by 0.9°C.»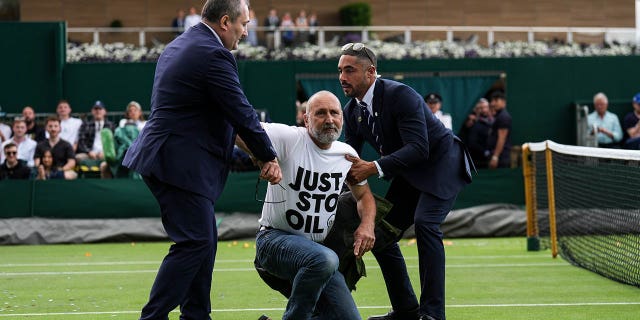 CLICK HERE FOR MORE SPORTS COVERAGE ON FOXNEWS.COM
The statement continued: «The @Wimbledon championships are currently under fire after signing a sponsorship deal with @Barclays, who have donated £30bn to oil and gas companies including @exxonmobil, @Shell and @TotalEnergies, in the last two years.»
The match was briefly delayed due to disruption and again due to weather.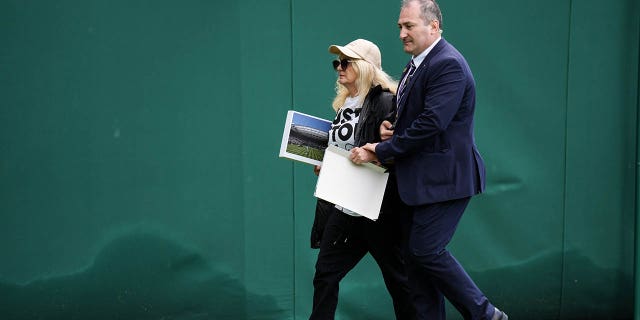 CLICK HERE TO GET THE FOX NEWS APP
The protest follows organizers announcing days earlier that security measures would be tightened in an attempt to thwart the environmental protest, Reuters reported.
«As we've seen at other sporting events, we can't guarantee anything, but we're extremely confident that the measures we've put in place are the right measures, and we're ready to deal with anything if it happens,» said Sally Bolton, chief executive of the All England Club.