Officials at the University of Connecticut welcomed a new celebrity on Wednesday and they say he's a very good guy.
Jonathan XV is a 2-month-old Siberian Husky who will become the official mascot of the UConn Husky this fall.
The pup was born in Ontario, Canada, on April 19 as part of a litter of six puppies and arrived on campus on June 17, school spokeswoman Stephanie Reitz said. He was introduced Wednesday morning to the school's board of trustees.
UCONN CHAMPIONSHIP CELEBRATIONS CAUSED NEARLY $123,000 IN DAMAGE, SCHOOL SAYS
The 12-pound (5.4-kilogram) pup lives with the same host family as current UConn mascot Jonathan XIV and is being trained for his new roles, which include appearing at sporting and other events on campus and doing promotions on social networks. Reitz said.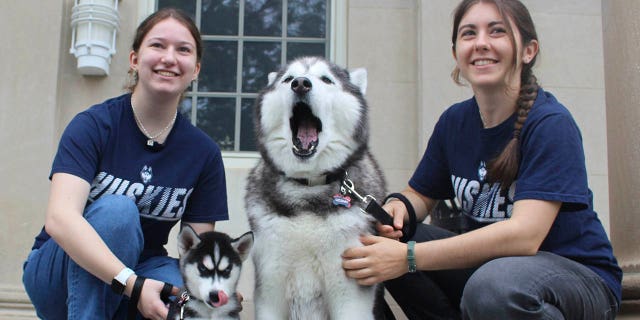 «Jonathan XV is a very fast learner and he's adorable,» he said. «He does things like sit when his older brother sits down and really admire him.»
The two dogs will make joint appearances for now, with Jonathan XV taking over as mascot when the older dog retires in October, Reitz said.
CLICK HERE FOR MORE SPORTS COVERAGE ON FOXNEWS.COM
Jonathan XIV, born in Arkansas, is 9 years old. He was introduced as UConn's mascot in January 2014 and began his role in August of that year, replacing a skittish Jonathan XIII, who had a hard time dealing with large crowds.
Jonathan XIV had a medical scare in January when a mass was found in his spleen and doctors removed the organ. That growth was determined to be benign and the dog recovered, Reitz said.
He traveled to Texas in April and was with the men's basketball team when they won the NCAA championship.
The school's mascots are named after Jonathan Trumbull, the last colonial and first state governor of Connecticut, and are cared for by the Alpha Phi Omega mixed-service fraternity.
CLICK HERE TO GET THE FOX NEWS APP
The Husky has been the mascot of UConn since 1933, when it was selected in a survey of students.