Americans in New York and Washington, DC, told Fox News which team they want to see win the NFL's Super Bowl LVII this weekend.
«I support Kansas City because I don't like the Eagles,» Bob, from New Jersey, told Fox News. «I used to live in South Jersey, but I'm originally from Washington, and I just don't like Philadelphia teams that much.»
But Devontae, of Washington, DC, said: «The Eagles. I'm saying they've got this under lock and key.»
Kansas City Chiefs and Philadelphia Eagles meet this Sunday in Glendale, Arizona, for Super Bowl LVII. Both teams finished the regular season with 14-3 records before winning their conference championships.
WHO ARE AMERICANS CHEERING ON THIS SUNDAY? LOOK HERE: :
WATCH MORE FOX NEWS DIGITAL ORIGINALS HERE
Both have also won the big game in the last decade. The Eagles won Super Bowl LII in 2018 over the New England Patriots and the Chiefs beat the San Francisco 49ers to win Super Bowl LIV in 2020.
«Kansas City Chiefs. They have a strong team and their quarterback is one of a kind,» Washington's Kevin said. «His heroism, his overall skills, his drive, he's just a great quarterback.»
New York's Nate agreed: «Chiefs because I'm a Patrick Mahomes fan.»
5 SUPER BOWL SNACK RECIPES TO SERVE ON GAME DAY
Mahomes, the Kansas City quarterback, won NFL MVP for the 2022 and 2018 seasons and was Super Bowl LIV MVP in 2020. This is his third Super Bowl appearance in five years as a starter for the Chiefs. .
Still, some Americans have told Fox News they want the Eagles to win.
«Philadelphia, because I really like the quarterback,» said another New Yorker, Stephen. «I just always liked them since I was a kid.»
CHIEFS' PATRICK MAHOMES WINS 2022 NFL MVP AHEAD OF SUPER BOWL LVII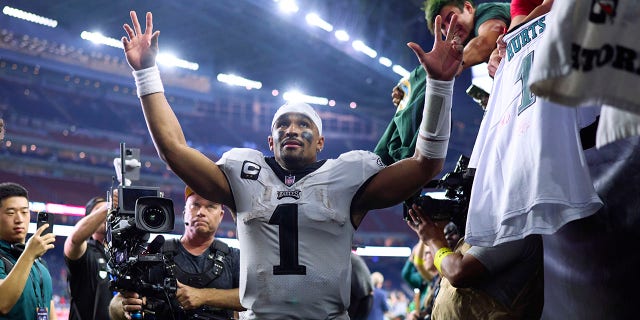 Greg said, «I hope the Eagles bring home a big win.»
Some fans weren't as enthusiastic.
«I support the Eagles because I'm from Philadelphia and I have to,» Steven told Fox News.
HOW DO FOOTBALL FANS FEEL ABOUT TOM BRADY'S RETIREMENT? LOOK:
CLICK HERE TO GET THE FOX NEWS APP
DC's Daniel said, «Kansas City is my son's team and Philly is my wife's team, so I don't really care.»
Super Bowl LVII begins Sunday at 6:30 pm EST on FOX.
To view the full interviews, click here.
Isabelle McDonnell reported from New York City and Jon Michael Raasch from Washington, D.C.