The Green Bay Packers arrived at Lambeau Field against their NFC North rival, the Minnesota Vikings, with fate in their own hands: they win and they will make the playoffs.
Well, they got off to the best possible start with some amazing plays on special teams and defense.
After the Packers blocked a punt that led to a Vikings field goal, Green Bay was looking to rally, and it was dynamic returner Keisean Nixon who understood the assignment.
CLICK HERE FOR MORE SPORTS COVERAGE ON FOXNEWS.COM
Nixon received a Greg Joseph kickoff five yards to the end zone and ran all the way back for a 105-yard return for a touchdown to go up 7–3.
NFL SLAPE PACKERS' ALLEN LAZARD WITH A $10K FINE FOR SKIPPERING, WR CALLS Crackdown 'VERY CONTRADICTORY'
Nixon has come close to making his first career scoring kickoff in recent weeks, but couldn't go all the way. This time, however, the Packers gave him the perfect blocks and he found the seams he needed to split the tacklers and drive to the end zone.
But the Packers weren't done making game-changing plays. With the Vikings facing a 4th and 2 at the Packers 37-yard line, they opted to go for it. The decision did not work out in his favor.
Cousins ​​dropped back to pass and tried to find TJ Hockenson up the middle. However, Packers cornerback Darnell Savage caught the deflected pass and immediately went for more yards upfield.
PACKERS CORNER SAYS JUSTIN JEFFERSON'S DOMINANT WEEK 1 PERFORMANCE AGAINST GREEN BAY WAS A 'CHANCE'
Savage got his blockers out in front of him, fended off a pair of tacklers and drove home for a 75-yard pick-six to make it 14-3.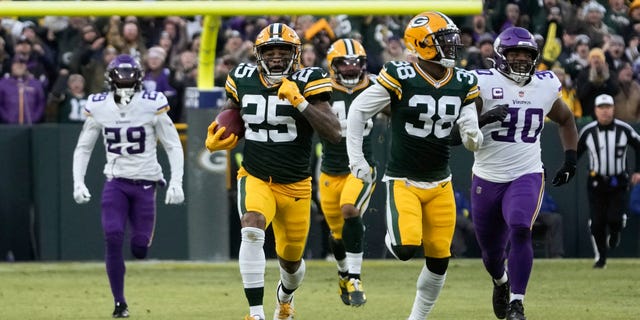 CLICK HERE TO GET THE FOX NEWS APP
This is the kind of play the Packers need, as the Washington Commanders' loss to the Cleveland Browns on Sunday sees Green Bay make the playoffs with a win over Minnesota this week and one against the Detroit Lions in Week 18.