Baltimore Ravens running back JK Dobbins' frustrations boiled over after the team's 24-17 loss to the Cincinnati Bengals on Sunday night and hinged on a game-changing play in the fourth quarter.
Ravens quarterback Tyler Huntley fumbled at the 2-yard line while trying to put his team up late in the game and Bengals defensive end Sam Hubbard picked up the ball and returned it 98 yards for a touchdown. According to Dobbins, Huntley shouldn't have been in that position in the first place.
CLICK HERE FOR MORE SPORTS COVERAGE ON FOXNEWS.COM
«[Huntley] I never should have been in that situation,» Dobbins said, via ESPN. "I don't have a single carry. I didn't get a single carry. I should never have been in that situation. I think I would have put him in the end zone, again.»
Dobbins was not on the field during the series and his lone score came on a catch-and-run that saw him stick his arm out for the ball to cross the plane of the goal line like Michael Jordan in «Space Jam.» «He said he was tired of the lack of opportunities, despite participating in 32 snaps.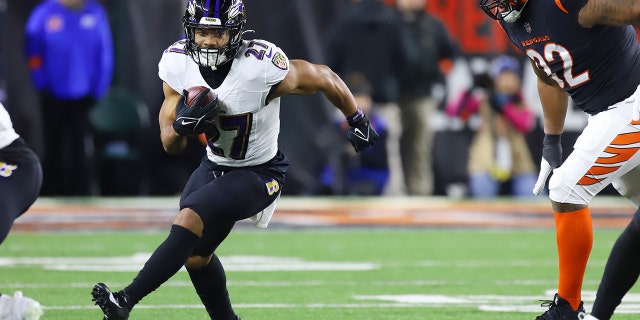 BILLS-BENGALS MATCHUP HIGHLIGHTS ROUND DIVISIONAL SLATE
«I should be the guy,» he added. «I'm tired of holding that back. I'm tired of that. It's the playoffs. I'm tired of holding that back. We're going to win the game. I'm tired of that.»
He said that the Ravens would have won if Lamar Jackson had played.
CLICK HERE TO GET THE FOX NEWS APP
Dobbins finished with 62 rushing yards on 13 carries. He added four receptions for 43 yards, including a 2-yard touchdown catch in the second quarter.