Philadelphia Phillies catcher JT Realmuto was ejected from Monday's spring training game against the Toronto Blue Jays after a bizarre interaction with home plate umpire Randy Rosenberg.
The incident occurred in the bottom of the fourth inning with Craig Kimbrel pitching for the Phillies. After Kimbrel was hit with a shot clock violation, Rosenberg attempted to feed Realmuto a ball, but the catcher appeared to accidentally move his glove and the ball fell to the ground.
CLICK HERE FOR MORE SPORTS COVERAGE ON FOXNEWS.COM
Rosenberg then looked at Realmuto and threw him out of the game. It seemed that Rosenberg thought that Realmuto took off his glove on purpose, but even he was stunned.
The shocking ejection in the middle of a spring training game left the baseball world stunned.
YANKEES WELCOME ANTHONY VOLPE TO OPENING DAY ROSTER: 'YOU EARNED IT'
Philadelphia, the defending National League champions, won the game, 5-2. Realmuto went 2-for-1 with a run scored and a strikeout.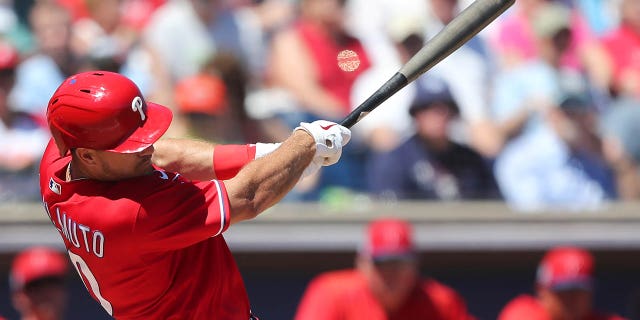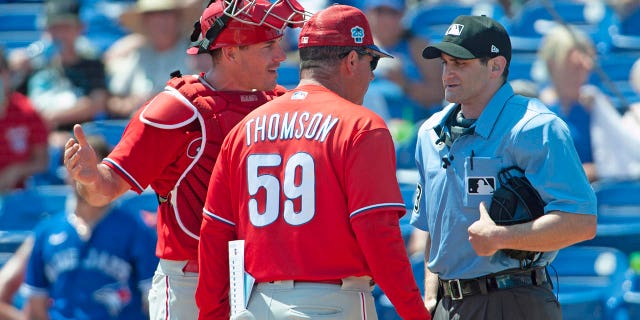 Realmuto is entering his fifth season with the Phillies. He signed with them prior to the start of the 2019 season after his baseball career took off with the Miami Marlins. Since joining Philadelphia, he has been a two-time All-Star and won two Gold Glove and Silver Slugger awards.
CLICK HERE TO GET THE FOX NEWS APP
Last season, he hit .276 with an .820 OPS and 22 home runs. He finished seventh in the National League MVP voting.