The Kansas City Chiefs and Philadelphia Eagles delivered an epic finish to Super Bowl LVII on Sunday night at State Farm Stadium in Glendale, Arizona, and it was a shame one team had to lose.
Patrick Mahomes and a late holding penalty got the Chiefs close to the goal line and Harrison Butker made the game-winning field goal.
The Chiefs would win 38-35.
Mahomes overcame a high ankle sprain, which worsened in the second quarter of the game, to help the Chiefs rally from a 10-point deficit and take a fourth-quarter lead.
CLICK HERE FOR MORE SPORTS COVERAGE ON FOXNEWS.COM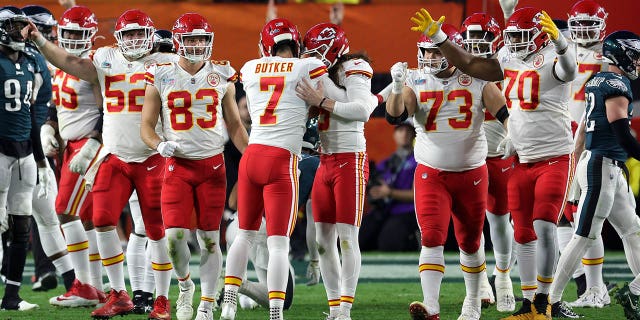 Kansas City would have to hold off Jalen Hurts and the Eagles as the star quarterback tied the game with 5:15 left with a 2-yard touchdown run and two-point conversion.
Mahomes would run for 26 yards on his injured ankle and put the Chiefs within field goal range.
In the same series, Eagles cornerback James Bradberry was called for a defensive holding when it appeared he grabbed wide receiver JuJu Smith-Schuster's back. Fans watching at home debated the penalty, but regardless, the decision stood and brought the Chiefs closer.
It looked like the Eagles were going to let the Chiefs score, but Jerrick McKinnon, after receiving a pass from Mahomes, ran just short of the goal line to keep the clock ticking. It was all part of the plan.
Mahomes was named Super Bowl MVP, the second of his career. He led the Chiefs to four scoring drives after he looked badly hurt late in the first half, but things really started to work out in the second half.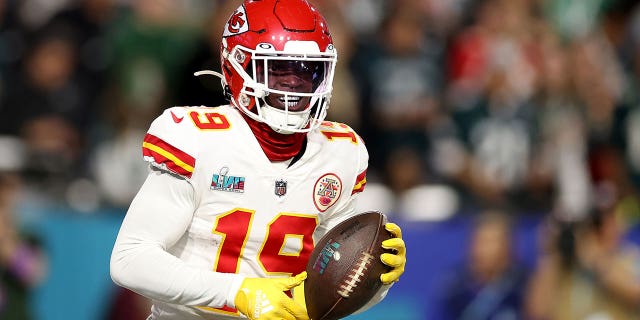 He led the Chiefs on a 10-play, 75-yard drive that ended with an Isiah Pacheco touchdown run. On the second drive, he found Kadarius Toney for a 5-yard TD pass. It was just the beginning for Toney.
EAGLES' JALEN HURTS THROWS AJ BROWN TOUCHDOWN, NFL WORLD REACTS
The Kansas City defense only had one stoppage in the first half and after allowing a field goal in the second half, the defense really needed to stand out. And they forced a 3 and out.
Toney would then return the ensuing punt 65 yards to set up the next touchdown. It was the longest punt return in Super Bowl history and led to a touchdown pass from Mahomes to Moore.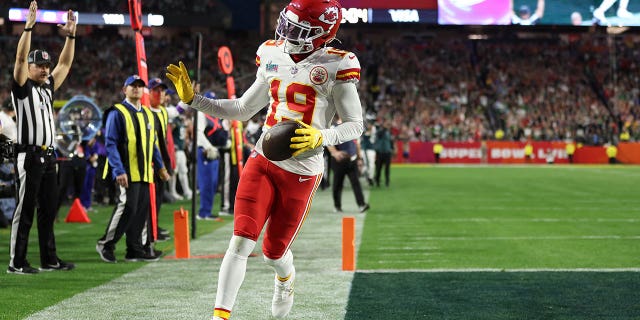 Philly wasn't going to turn around just because Kansas City scored.
Hurts rallied the troops and fired a 45-yard pass to DeVonta Smith into the red zone. Hurts would sneak into the end zone and then convert the two-point conversion to tie the game.
The rest is history. Philadelphia would not have a great chance to tie the game as the Hail Mary fell just short.
Mahomes finished 21 of 27 with 182 passing yards and three touchdown passes. He also had 44 rushing yards despite the ankle injury. Pacheco had 76 rushing yards to lead the Chiefs. Travis Kelce finished with six catches for 81 yards and a touchdown. JuJu Smith-Schuster had seven receptions for 53 yards.
EAGLES FANS BOO COWBOYS' DAK PRESCOTT AT SUPER BOWL LVII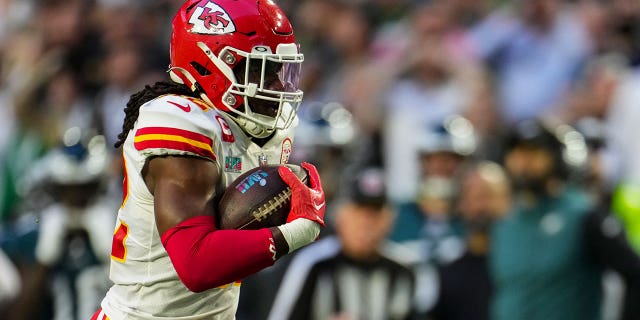 Nick Bolton also made a big difference. Along with nine total tackles, he had a fumble recovery for a touchdown in the first half.
Hurts had a terrific first half ending with three total touchdowns. He had a 1-yard run at the goal line to get Philadelphia on board early. He found AJ Brown on a deep pass that the wide receiver ran over some Chiefs defenders in the back of the end zone. He put his third in the end zone with 2:20 remaining in the half.
Jake Elliott made it 24-14 and Philadelphia.
EAGLES' NICK SIRIANNI LETS TEARS FLOW DURING NATIONAL ANTHEM BEFORE START OF SUPER BOWL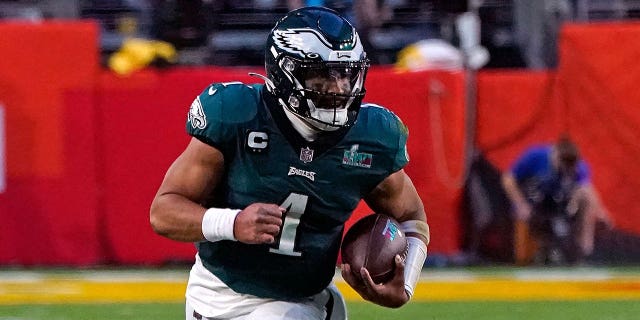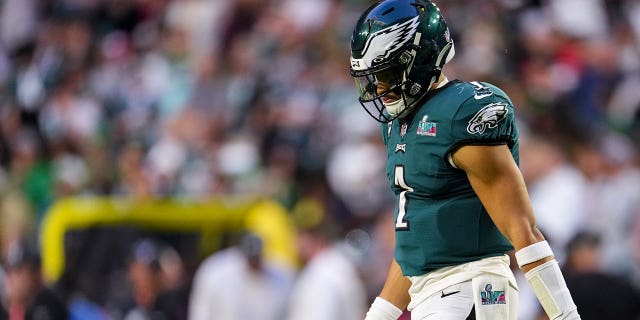 Mahomes limped into the locker room after it appeared his ankle injury worsened late in the second quarter. He was in severe pain when he left the field to be checked out.
Hurts finished the first half 17 of 22 with 183 passing yards and a touchdown pass. He had 63 rushing yards and two rushing touchdowns.
Mahomes was 8-for-13 with 89 passing yards and a touchdown pass.
Hurts finished 27 of 38 with 304 passing yards and a touchdown. Smith had seven catches for 100 yards. Brown had six receptions for 86 yards and a score.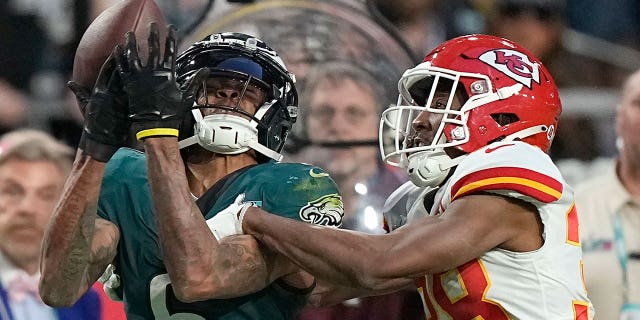 Andy Reid now has his second Super Bowl ring. He told FOX Sports' Jay Glazer earlier in the day that he may have to make a decision about retirement soon, but for now, he will enjoy the victory.
CLICK HERE TO GET THE FOX NEWS APP
Kansas City now has three Super Bowl titles.