WANTAGH, NY — Off the coast of Long Island, drones sweep the ocean, patrolling the water for any danger that may lurk below the surface as beachgoers become more vigilant due to a recent series of encounters with sharks.
Over two days this week, five people reported being bitten by sharks off some of New York's most popular beaches, prompting increased surveillance of the area's waters.
The sighting of a 10-foot shark on Thursday prompted authorities to keep people out of the water at Robert Moses State Park, the same Long Island beach that delayed its July 4 opening after a drone sighted a shark. group of 50 sand sharks off the coast.
"Now we are more vigilant than ever," said George Gorman, director of state parks on Long Island. "We have drones in the sky that monitor the waters. We have lifeguards in WaveRunners that keep an eye on the waters."
Just a few years ago, shark encounters were rare. But more recently, reports from sharks biting people have increased. Last year, eight people reported being bitten by sharks swimming in the shallows off Long Island beaches.
«This year, we've already had five bites,» Gorman said, «and the season has just started.»
Even if the injuries have not been serious, he and others are concerned about the increase in shark sightings and encounters.
Cary Epstein, a lifeguard supervisor who pilots drones in Jones Beach, said the tiny battery-powered plane makes three sweeps each day: one before opening, then at noon and a final round before the end of the day.
«Despite the nervousness about what's going on in New York right now, people swim in the ocean every day and have done so for centuries,» he said. «But we have to remember that we are cohabiting, and this is his house.»
The drones provide an additional vantage point not available to lifeguards on the beach, Epstein said as he demonstrated how he uses drones to patrol Long Island's waters.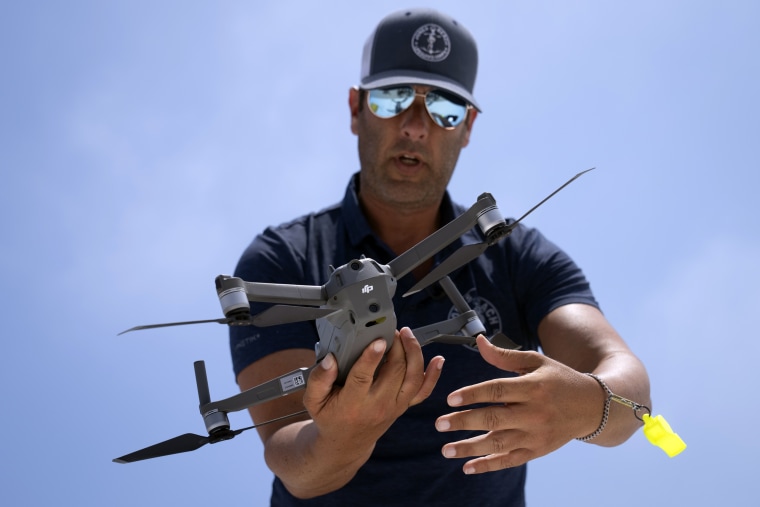 While operating one of the drones from the beach, he stared at a small box equipped with controls and a display screen. The ship took off, hovering over the sand until it shot forward over the water and became a mere dot as it neared the horizon.
"When you're at an elevated lifeguard station or lifeguard station, you can see up and out, but you can't see directly down," Epstein said. "When we have sharks eating these fish, it's very, very clear to us. You could see it, no questions asked.»
But, he cautioned, «just because you don't see something doesn't mean it's not there.»
Just two months ago, Governor Kathy Hochul announced the addition of 10 drones to her squadron, bringing the total to 18 that can be used to monitor shark activity on her state's beaches.
"With New Yorkers and visitors preparing to enjoy our beautiful Long Island beaches all summer long, your safety is our top priority," Hochul said in May. "This year we are taking further steps to protect beachgoers by increasing vigilance to monitor shark activity near south coast beaches."
An increase in shark sightings could suggest a healthier ecosystem, some say. Cleaner waters allow the small fish that sharks feed on to flourish. More small fish swimming closer to shore means more sharks biting their tails.
Before 2022, New York had only recorded a dozen unprovoked bites. Over the past decade, there have only been four people bitten by sharks, according to data compiled by the International Shark Attack File, which tracks shark attacks around the world.
Florida is often the nation's leader in shark bites. There were 16 last year, which was twice as many as runner-up New York.
From his perch on the sand at Jones Beach State Park on Thursday, lifeguard Carl Nowicki gazed out to sea, searching the water for activity that might attract a hungry shark, such as large schools of baitfish.
"If a drone has seen a shark, we won't alert customers until they're in the water because we don't want them to be scared off," he said. "We will be very transparent once everyone is in the arena. We don't want to cause panic on a beach.»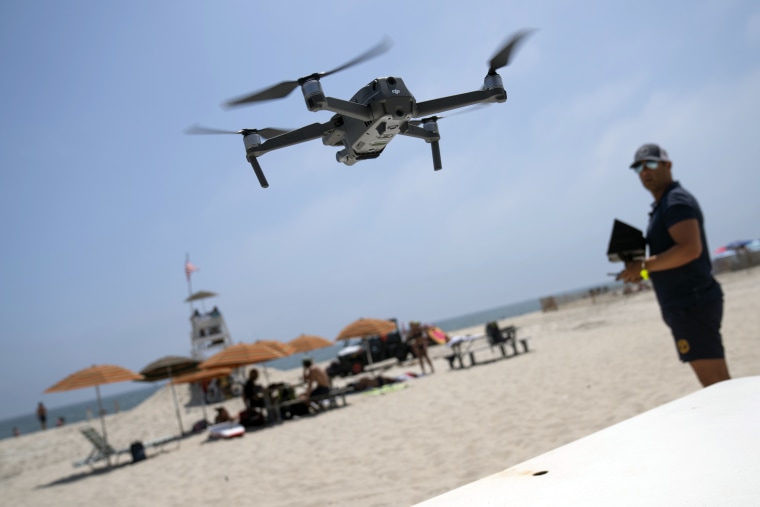 Mike Berchoff, who was enjoying the sun and water at Jones Beach, wades into the water more cautiously these days. He doesn't want to be the next beachgoer to get bitten by a shark.
"I only go up to the waist. That's it," she said. «I'm not going to the end.»
He's seen more drones take off lately, which he says provides some reassurance that beachgoers would be alerted to the danger.
The first known encounter of the summer occurred Monday when a 15-year-old girl felt a bite on her leg while swimming. Shortly after, on a different beach, another teenager had to paddle back to shore after something began nibbling on his toes.
A day later, on July 4, two men reported possible shark bites in two separate encounters 60 miles apart.
This is not the same kind of horror that terrorized the fictional east coast town of Amity Island in the terrifying thriller «Jaws.»
For one thing, it is unlikely that the marine animals involved in the recent encounters were the fear-inducing great white sharks that linger in deeper water and are rarely seen close enough to shore to be a real concern.
About a dozen species of shark swim off the coast of Long Island, none of them considered particularly ferocious, including the sand sharks that are more common in the area and grow to almost 15 feet. Their sharp, jagged teeth can be scary, but giant fish are usually docile and avoid human contact. A juvenile shark nursery is known to exist off Fire Island.
Sand sharks are unlikely to attack humans unless provoked, according to shark biologists. If they do interact with swimmers, it's usually unintentional.