Welcome to your weekly roundup of the biggest stories from Netflix's top 10 hourly figures for June 18, 2023. We've got a lot to cover this week, including the debut of black mirror and Extraction 2 In addition, we will also see the big change that Netflix has made with its top 10.
Every Tuesday, Netflix updates its top 10 stats page with 40 new figures per hour from the best movies and shows of the last seven days.
Note: In this report of Netflix hours watched from June 12, 2023 to June 18, 2023, we will use «Full View Equivalent» or CVE, expressed in millions. That's the same metric Netflix now uses in its Top 10 after the June 2023 methodology update. It allows for better comparisons between movies and series, but it's not an audience metric. It is the minimum number of viewings if they were all complete from the first second to the last of the movie or season.
---
A methodology surprise: Netflix changes the way it shares its top 10.
That was the big reveal and surprise yesterday: Netflix decided to do what every analyst (including us) has done since the first Top 10 in hours watched, which is divide those numbers by their run time to get a more complete picture. than what is actually seen on Netflix.
We call this metric «CVE»; They call it «views» and it validates what we've been trying to do in these Netflix reports: test and compare what can be compared on the best possible scale. We will continue to do so, as this change in methodology will likely give us more numbers on Netflix original shows than before, so stay tuned!
This goes for the numbers we get from Netflix and the top 10 daily charts, which have changed dramatically in recent days.
This is how Netflix describes the change: pic.twitter.com/kifjHfYVmp

— Kasey Moore (@kasey__moore) June 20, 2023
---
Extraction 2 is one of the biggest hits of the year so far
action sequel Extraction 2 He had to push hard for his opening weekend, and he did it with 42.8 million hp over the first three days.
That's pretty similar to the two biggest Netflix movie releases of 2023 so far (murder mystery 2 and Mother, which launched with 42.9 million CVE). It's a fantastic release, and as revealed during TUDUM, a third installment is in the works.
---
"Black Mirror" season 6 has a good launch.
With 11.3 million CVEs in its first four days, Black Mirror season 6 has a decent launch, not a great one, but that's understandable given the concept of this anthology series not really being a binge. The episodes are long and rather bleak, so I expect the series to get some good legs in the coming weeks as subscribers continue to discover the episodes one at a time.
---
Amy Schumer benefits from the change in methodology
In the old days of the Top 10, 2 million hours watched would not be enough to be part of the Top 10. But for a special of only 50 minutes, it is now enough under the new rules like Amy Schumer: emergency control launched with 2.4 million CVEs in its first six days. That's far less than the other special in my data set, Dave Chappelle's «The Closer,» which opened with 12 million CVEs.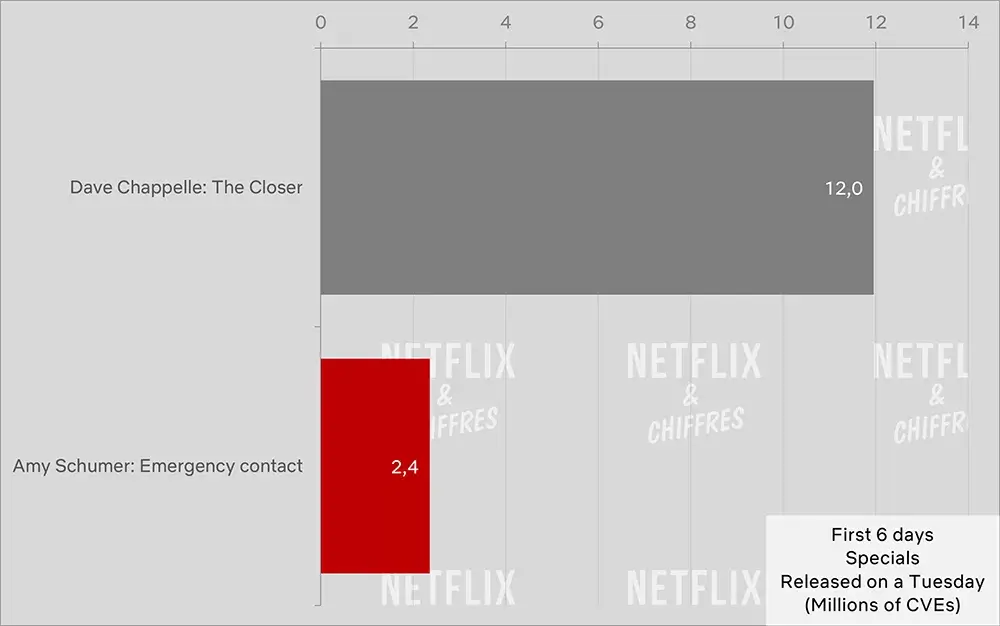 ---
FUBAR and XO, kitty have been renovated, here's why
Last week we found out that FUBAR and XO, kitty they were renewed for a second season, and as we've been writing, it makes a lot of sense when looking at the data. They were two of the top three most-watched new US series in 2023 based on our 14-day estimates.
Now, the audience is not the only thing at stake here, as we can see with the (silent) renewal of Unstablebut in the case of FUBAR and especially XO, kittyIt was more than enough to justify a quick renovation.