Pat Riley is one of the most respected names in the world of basketball and he certainly has a lot of experience when it comes to winning NBA championships.
He won one title as a player, one as an assistant coach, is a five-time champion head coach and won a pair of championship rings during his long tenure in the Miami Heat's front office.
Miami was largely inconsistent during the 2022-23 regular season and clinched the eighth and final playoff spot. The team eventually became the second No. 8 seed in NBA history to advance to the championship series.
CLICK HERE FOR MORE SPORTS COVERAGE ON FOXNEWS.COM
But Riley, who oversees the Heat's basketball operations, still has the disappointing loss in this year's NBA Finals on his mind.
HEAT'S PAT RILEY, 77, HAS NO PLANS TO RETIRE, SAYS HE COULD DO MORE PUSH-UPS THAN REPORT
During his annual end-of-season review Tuesday, the 78-year-old Riley reflected on the unique year and insisted that if there's a way to improve this summer, the Heat will do it.
«Another championship team, that's my goal,» Riley said. «I have no other plans apart from doing that.»
Retirement was not discussed during Riley's 35-minute session with reporters; he has shown no signs of slowing down and there has been no talk of any exit strategy for Riley, who has been a part of nine NBA championships, three in Miami.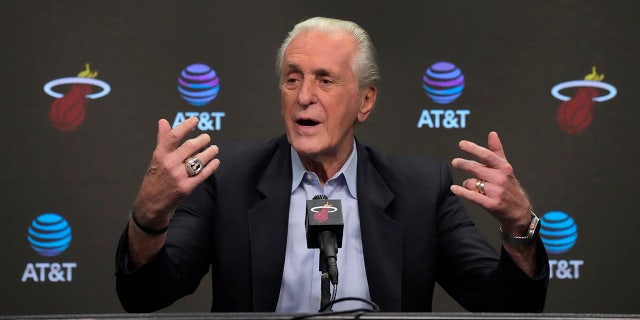 The Heat were involved in trade talks over the weekend that ultimately resulted in Bradley Beal waiving his no-trade clause to leave Washington for Phoenix, a deal that is still awaiting final approval from all parties and the nba. And if Portland's Damian Lillard decides he wants a trade, it's a poorly kept secret that Miami would be more than willing to talk to the perennial All-Star and gauge his interest in joining the Heat.
Riley, by league rule, can't talk about players under contract elsewhere. But his focus each summer is to find the player or players who can get Miami closer to a title. That won't change this summer, and he also doesn't think the current roster needs to be decimated for the change to happen.
«We're not going to take a wrecking ball on this,» Riley said, channeling lyrics from his friend Bruce Springsteen, whom he quotes frequently.
«Good times are coming, good times are coming. Hard times are coming, hard times are coming. We're not going to bring a wrecking ball to a good team that had real adversity this year. We had a good team, probably a great team.» We wouldn't have gotten as far as we have, and there's no caveat to any of that, if you weren't a great team.»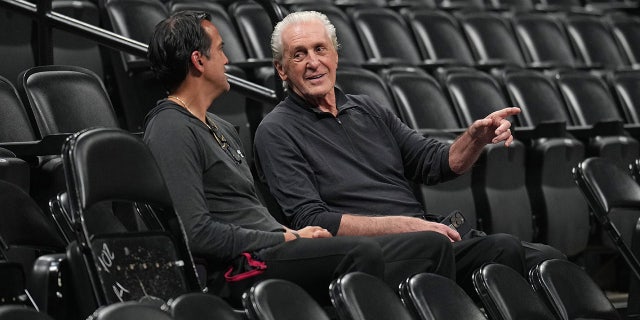 Riley praised Jimmy Butler, who just finished his fourth season in Miami. «It's a whole different bag of tricks, let me tell you, and I love him to death,» Riley said, speaking at length about Bam Adebayo's continued evolution. and Tyler Herro from late lottery picks to integral parts of the Heat plan.
CLICK HERE TO GET THE FOX NEWS APP
There's a No. 18 pick in Thursday's draft to add, then free agency awaits a week later. If a move presents itself, Riley is ready to pounce. If not, he won't panic.
«Persistence and perseverance has been something that's been a part of my life forever. That's the way it has been,» Riley said. «And patience is the last thing that came with it. So, we're going to show a little bit of patience here instead of reacting without knowing what the consequences of doing something might be. So right now, this is what we've got.»
Associated Press contributed to this report.