Gonzaga, who started off slow, finally began playing like a title contender, then defeated Grand Canyon 82-70 behind Julian Strawther's 28 points and 10 rebounds in the NCAA Tournament on Friday.
Zags senior Drew Timme brought his sweatband and handlebar mustache back to March Madness and finished with 21 points, six rebounds and three blocks for the third-seeded Bulldogs (29-5). they have not lost a first round game in the tournament. since 2008.
Next up for Gonzaga is a game Sunday against the winner of a Western Region contest between TCU and Arizona State.
Like almost every Zag outside of Strawther, Timme was held back and frustrated in the first half, then came out of half time looking like a different player. After trailing as many as seven points, Timme's three-point play gave Gonzaga a 48-40 lead early in the second half.
CLICK HERE FOR MORE SPORTS COVERAGE ON FOXNEWS.COM
Grand Canyon's Ray Harrison responded with a layup on the next possession. After that, Gonzaga went on a 16-0 stretch during which Lopes (24-12), the No. 14 seed and Western Athletic Conference champion, missed 11 straight shots and fell behind by 22.
With the game fun, rowdy Grand Canyon fans, who for a while had reason to dream of an upset of their own, got a chance to turn their attention to the upset finish of No. 16 seed Fairleigh Dickinson over No. 1. Purdue. playing on the big screen on the pitch.
But there was no surprise in Denver.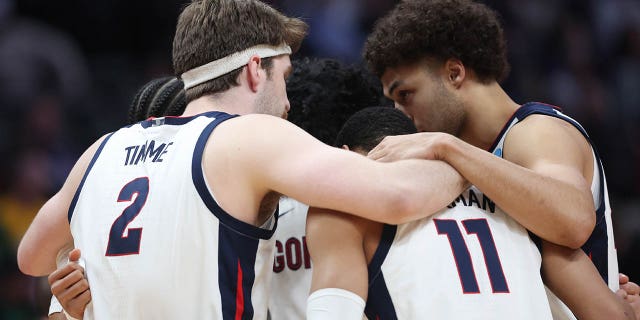 FAIRLEIGH DICKINSON BEATS TOP SEED PURDUE AND BECOMES THE SECOND 16 SEED TO BEAT A NO. 1 IN THE HISTORY OF MARCH MADNESS
Harrison led Grand Canyon with 20 points, and Chance McMillian had 16. Noah Baumann (eight points) hit a pair of 3-pointers during a 12-4 run that helped the Lopes take a seven-point first-half lead.
Strawther, who decided to return to Gonzaga for his junior season instead of heading to the pros, kept Gonzaga in it from the start. He scored 16 of his 28 in the first half.
The second half was more of a team effort for Gonzaga, who also got 14 points and 11 rebounds from Anton Watson.
In the end, the game was a lot like Gonzaga's season: slow start, better as things progressed, and a chance to do more. The Bulldogs snapped their 75-game home winning streak in January, and this marked the first time since 2018 that they entered the tournament as anything other than a No. 1 seed.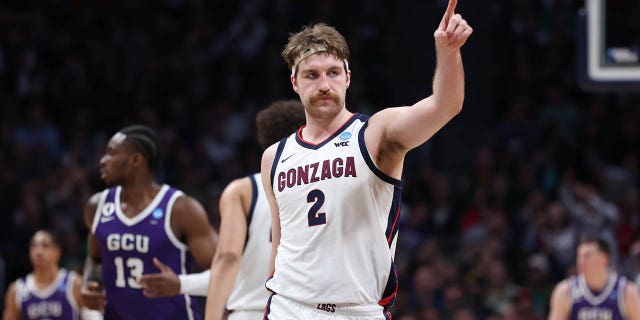 CLICK HERE TO GET THE FOX NEWS APP
NO AGAIN
Harrison led fifth-seeded Grand Canyon in the WAC tournament to four straight wins and the March Madness stake by becoming the first Division I player to collect 80 points, 20 rebounds and 20 assists in a conference tournament since Kemba Walker (Big East) in 2011. On Friday, however, Harrison was bottled. He needed 19 shots to get his 20 points and finished with two rebounds and three assists.
THE CHILD OF ELLIS
With his father, LaPhonso Ellis, sitting in the stands, Walter Ellis scored nine points before fouling out for Grand Canyon. LaPhonso Ellis, the former Notre Dame star, played in Denver for the Nuggets from 1992 to 1998.