Jonathan Marchessault scored the first of three quick goals for Las Vegas, an early onslaught that knocked Jake Oettinger out of the game after captain Jamie Benn had already been ejected, and the Golden Knights cruised to a 4-0 Game 3 victory who has them one win away from reaching another Stanley Cup final.
While Oettinger got off to the shortest start of his career, Las Vegas goaltender Adin Hill stopped 33 shots in his second shutout this postseason.
After four straight comeback victories in these playoffs, including two overtime wins at home to start the Western Conference finals, the Golden Knights were in control all the way in this one to take a 3-0 series lead. .
Game 4 is Thursday night, when Las Vegas will have a chance to advance to its second Stanley Cup Final in the franchise's six seasons.
CLICK HERE FOR MORE SPORTS COVERAGE ON FOXNEWS.COM
The Golden Knights were Western Conference champions during their inaugural 2017-18 season, then lost the Cup final in five games after winning Game 1 against the Washington Capitals. Vegas missed the playoffs for the only time last season, before coach Pete DeBoer was fired before he became the Stars' manager.
Marchessault scored just 71 seconds into the game, and 42 seconds after that, Benn was assessed game misconduct for an ugly play against Las Vegas captain Mark Stone.
After the two captains collided near the blue line and Stone fell to the ice, Benn lunged forward with both hands on his stick and made contact near Stone's neck as he slid over the center line.
Just prior to Benn's early exit, he had a wrist strap that was stopped by Hill, but was initially still loose under the keeper when Benn tried to reattach his stick to it.
Ivan Barbashev, who later had two assists, scored during the power play after Benn's penalty. That was one of three shots the Knights scored into the net during the five-minute penalty.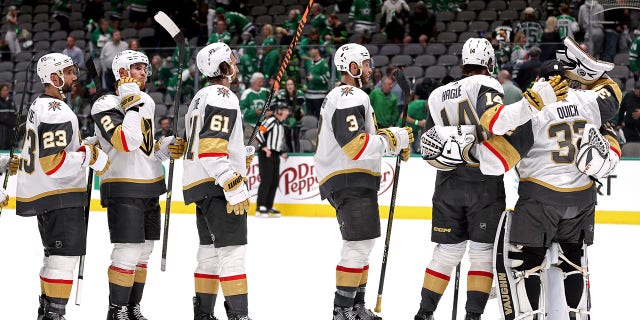 PANTHERS ARE CLOSER TO STANLEY CUP APPEARANCE WITH GAME 3 WIN OVER HURRICANES
Dallas had two short shots, but when Ty Dellandrea's shot was blocked, Nicolas Roy took the rebound the other way and passed Barbashev for a 30-foot wrist shot to make it 2-0.
Oettinger was pulled and replaced by Scott Wedgewood after William Carrier's backhand made it 3-0 with 12:50 left in the first period.
It was the shortest start ever for Oettinger, who has now lost three straight starts. He has lost four of five, the win coming when he had 22 saves for the Stars in their 2-1 win in Game 7 of the West semifinal against Seattle.
Wedgewood saved 10 of 11 shots, with Alex Pietrangelo's goal midway through the second half, just a second after the end of a power play as Miro Heiskanen came out of the penalty area.
All-Star center Max Domi committed a game misconduct with 21 seconds left in the second period. After cross-checking him against Nicolas Hague, Domi started throwing punches.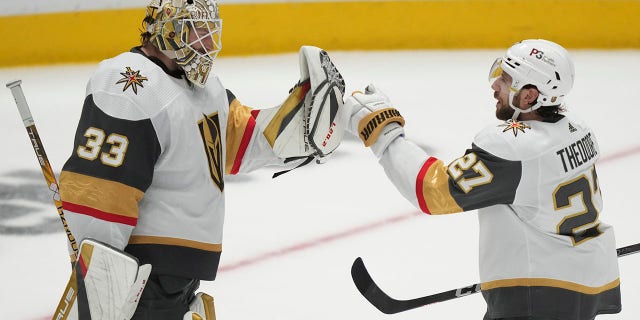 CLICK HERE TO GET THE FOX NEWS APP
Fans in the arena reacted to the resulting penalty by throwing water bottles, food, and other items onto the ice. Since more time was needed to clean the playing surface, the officials sent both teams to their locker rooms early for the second intermission with the Knights leading 4-0.
Those final 21 seconds were played after intermission before the clock reset to 20 minutes for the third period.
NOTES: Star forward Evegenii Dadonov left with a lower-body injury in the first period and never returned. It was the first Western Conference Finals game in Dallas since May 19, 2008, when the Stars lost to Detroit in a deciding Game 6.