INGLEWOOD, Calif. — Stetson Bennett threw two touchdown passes and ran for two scores in the first half as No. 1 Georgia demolished No. 3 TCU 65-7 Monday night to become the first team to win back-to-back college national championships Football Playoff.
The Bulldogs (15-0) became the first repeat champions since Alabama repeated itself a decade ago and left no doubt that they have replaced the Crimson Tide as the new bullies on the block.
TCU (13-2), the Cinderella first team of the playoff era, never stood a chance against the Georgia giant. Unlike Michigan in the Fiesta Bowl semifinal, the Bulldogs would not succumb to the Horned Frogs' spell.
Georgia delivered one of the all-time beatings in a national title-deciding game, reminiscent of Nebraska routing Florida 38 in the 1996 Fiesta Bowl, USC's 36-point victory over Oklahoma in the Orange Bowl in 2005 and Alabama's 28-point loss. BCS championship blowout over Notre Dame in 2013.
But this was worse.
Too talented. Too well trained. Two titles in a row for the 'Dawgs' coach Kirby Smart.
No team has scored more points in a national championship game since the inception of the BCS in 1998.
With 13:25 left in the fourth quarter, coach Kirby Smart called a timeout in the middle of an offense so Bennett could walk away with a standing ovation in the final game of his torturous college career.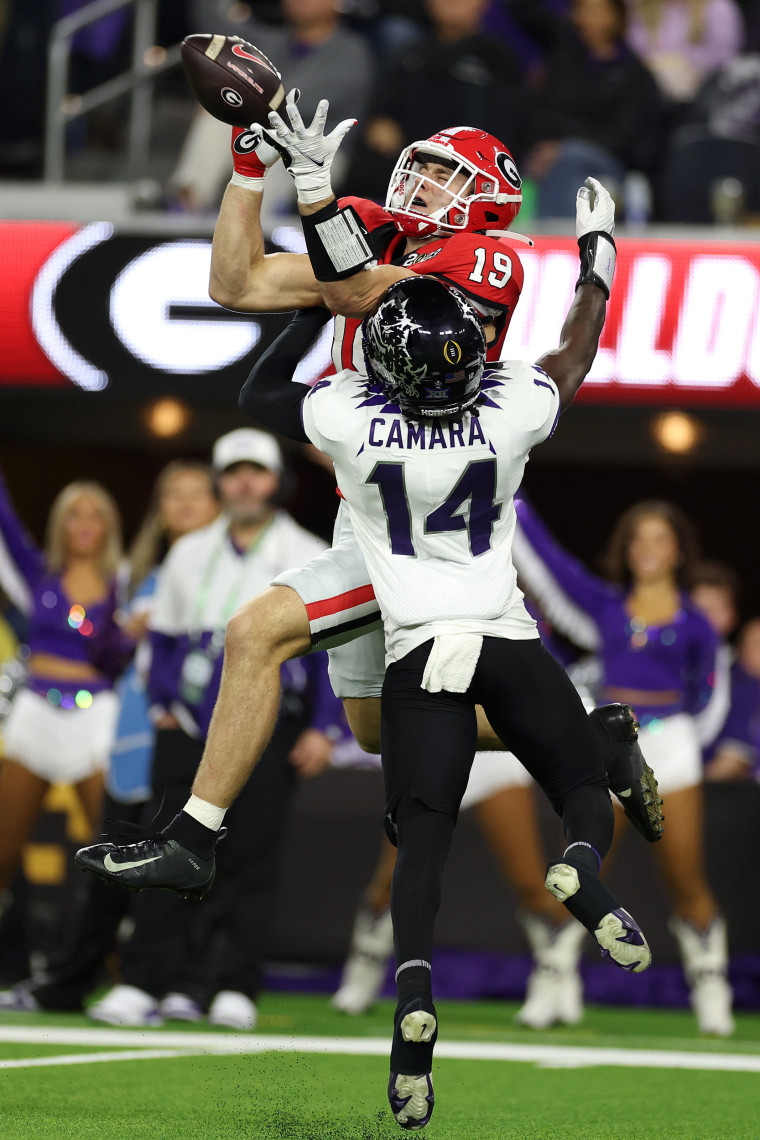 He finished 18 of 25 passing for 304 yards and four touchdown passes.
The Georgia offensive linemen were eating chicken wings on the sideline as the game wrapped up.
Smart is now 81-15 in his first seven seasons in Georgia with two national titles. His mentor, Alabama coach Nick Saban, went 79-15 with three titles in his first seven seasons with the Tide.
The Bulldogs were a different kind of dominant this season: not as stingy on defense, but more explosive on offense.
Earlier in Smart's tenure at his alma mater, Georgia fans worried that Saban's former defensive coordinator could build an offense to match this high-scoring era of college football.
Under third-year coordinator Todd Monken, the Bulldogs have become prolific, creative and diverse on offense. They picked TCU's 3-3-5 defense from every angle.
Versatile tight end Brock Bowers had seven receptions for 152 yards. Receiver Ladd McConkey caught two TDs. Georgia rushed for 254 yards with seven players gaining at least 10.
The Bulldogs scored on all six touches in the first half. Twice Bennett executed it himself; the former walk-on turned two-time national champion was barely touched by the two quarterbacks.
He hit a wide-open McConkey for a 34-yard TD in the first quarter, a perfectly executed play from a huddled formation that had TCU's defensive backs in disarray. Bennett's 22-yard score to Adonai Mitchell was a higher degree of difficulty, falling on a defender who had tight coverage.
It looked a lot like the Bennett-to-Mitchell touchdown that gave Georgia a fourth-quarter lead it wouldn't lose against Alabama in last year's CFP title game.
Georgia beat the Tide to snap a 41-year national title drought last season, avenging its lone regular-season loss in the process.
There was no such drama against the upstart Horned Frogs.
This year the Bulldogs never had to worry about Alabama. They went through the SEC, survived Ohio State in a classic CFP semifinal, and then emphatically marked themselves as a burgeoning dynasty.
Bennett hit Brock Bowers for a 22-yard score with 10:52 remaining in the third quarter to make it 45-7. The sophomore tight end signaled the touchdown as he lay on the grass at Sofi Stadium. Bennett flashed a wide grin as he banged helmets with one of his linemen.
Georgia's famous bulldog mascot, UGA, was unable to make a cross-country trip to cheer on his team, but it still felt a bit like Sanford Stadium in SoCal.
Many of TCU's fans left with more than half of the fourth quarter remaining, choosing to venture out on a cold, rainy night rather than see more of the massive mismatch.
Heisman Trophy runner-up Max Duggan threw two first-half interceptions in the final game of his rollercoaster career at TCU.
A four-year starter who never played in a bowl before this season, Duggan led TCU to one of the most unlikely runs in college football history. Unranked nationally after a losing season and chosen seventh in the Big 12 for Sonny Dykes' first year as coach, the Frogs won nine games by 10 points or less. They were one win away from the program's first national title since 1938.