Clearly, LeBron James wasn't happy Saturday with a missed foul on his layup that could have given the Los Angeles Lakers a 107-105 lead with just a couple of seconds left.
James couldn't believe the referees didn't call Jayson Tatum a foul, and he continued on Twitter after the game.
He was called for a technical foul, and the Boston Celtics took home a 125-121 victory.
CLICK HERE FOR MORE SPORTS COVERAGE ON FOXNEWS.COM
James has received some criticism over his reaction, with many believing it was over the top. A former New York Knick chimed in on Instagram.
Charles Smith, a former first-team All-Rookie and Big East Player of the Year, said James should move on to the next game.
PAT BEV'S TECH FOUL FOR SHOWING CAMERA REF WAS 'HILARIOUS,' SAYS CELTICS STAR
«We are all hit with some heartbreaking negative calls in life and there is literally nothing you can do about it. However, you can control how you deal with it…» she wrote on Instagram. «control your emotions… keep going… pay it forward with success in your next [opportunity] and it continues throughout your life.»
The Lakers are ranked 13th in the Western Conference with a 23-28 record. They started the season 2-12, and their entire campaign has been filled with ups and downs.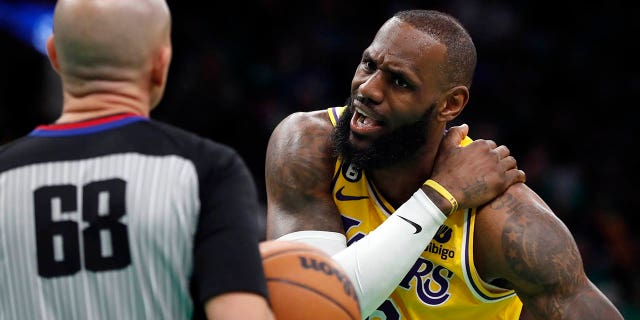 CLICK HERE TO GET THE FOX NEWS APP
James is averaging 30.2 points, 8.5 rebounds and 7.0 assists this year. Since he turned 38 on December 30, he has dropped 35.2 points per game along with 9.4 boards and 8.1 assists.