A University of Florida fan was ejected from the Gators' basketball game against the University of Kentucky on Wednesday after putting his arm around the neck of a Wildcat player in the second half.
Kentucky's Cason Wallace went to stop a ball from going out of bounds and after doing so, one of the fans was seen sitting courtside in the sand wearing an orange Florida Gators jersey, standing and holding out his arm. .
He ended up getting wrapped around Wallace's neck and the game was stopped.
Head coach John Calipari was furious on the Kentucky bench as the officials began to discuss what happened. The play was reviewed and the video playback clearly showed the referees what everyone else saw at home.
CLICK HERE FOR MORE SPORTS COVERAGE ON FOXNEWS.COM
«That's inexcusable,» said one of the ESPN announcers. «That's an easy decision. That guy left… That guy should never come to another game.»
«No, never,» replied his broadcast partner. «And at the SEC, not just on this campus. That's as bad as you can act like a fan… Absolutely unacceptable.»
CHEERLEADER IS EJECTED AFTER ON-COURT ALTERCATION WITH COLLEGE BASKETBALL PLAYER
Finally, the fan was seen walking from the floor, as were the apparent friends he was sitting with.
The announcers also didn't like that the fans were trying to cheer the crowd up as they walked off the pitch. «No, don't ask for applause. That's not the correct answer. You made a mistake and you need to go.»
The game was deadlocked at 50 apiece with 13:47 remaining in the second half, but ultimately the Wildcats earned a conference road win, 82-74.
Wallace, who played 38 minutes for Calipari, finished the game with eight points, six assists and two rebounds.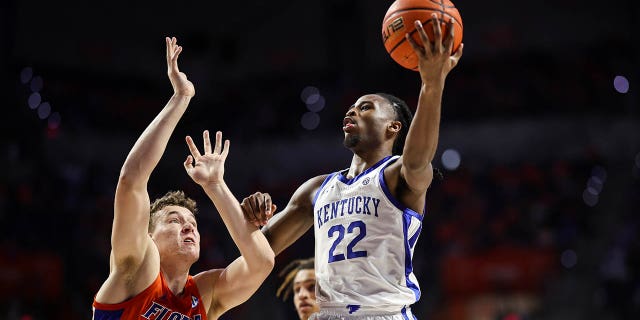 Oscar Tshiebwe was the night's leading scorer with 25 points, while Jacob Toppin, brother of New York Knicks forward Obi Toppin, had a double-double with 19 points and 11 rebounds.
Antonio Reeves also added 16 points for Kentucky.
UBER EATS DELIVERY DRIVER STOPS COLLEGE BASKETBALL GAME AFTER WALKING ON COURT TO MEET CUSTOMER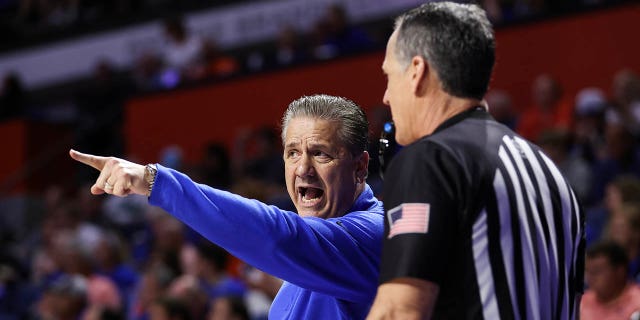 The Wildcats outscored the Gators 46-37 in the second half after going into the locker room down one, 37-36.
Unfortunately, this isn't the first time a game has been stopped by someone who's not supposed to interact with players.
CLICK HERE TO GET THE FOX NEWS APP
In a matchup between Mississippi Valley State and Alabama A&M earlier this month, a cheerleader walked onto the court to confront a player after she appeared to impede her stunt near the baseline during her tackle pass.
The cheerleader was eventually kicked out.