A police dog mutilated a black man in Ohio during a July 4 traffic stop after he surrendered to authorities with his hands up following an «extended pursuit,» authorities said.
An Ohio State Highway Patrol Motor Carrier Enforcement inspector tried to pull over 23-year-old Jadarrius Rose, who was driving a semi-trailer, because it was «missing a left rear fender,» according to an incident report. Rose was traveling west on US Route 35 and failed to stop for the inspector and police officers who were called for help.
Troopers deployed tire deflation devices called stop sticks to Rose's vehicle twice before it came to a stop on US Route 23.
Rose told a police officer instructing her to get out of her vehicle that she was on the phone with 911, according to the incident report.
"After multiple times being ordered out of the vehicle, the suspect exited the vehicle through the driver's side door," the incident report states. «The driver received orders to get down and the suspect did not comply.»
Rose can be seen in a video released by the highway patrol standing in front of police officers with her hands in the air.
A Circleville police officer who has a dog can be heard telling Rose to «get on the ground or you're going to get bitten.» Meanwhile, a highway patrol cop tells Rose to «come to me.»
It is then that the Circleville police officer, identified as «R. Speakman», deploys his K9.
«Don't let the dog go with your hands up!» A policeman can be heard yelling multiple times before Speakman releases the dog.
The video shows the dog running towards Rose, who drops to her knees as Speakman lets go of the dog.
The video appears to show the dog biting and pulling Rose by the arm as she yells loudly.
«Take it off!» Rose screams repeatedly.
«Get the dog off me!» shouts a soldier.
Other officers can be heard calling for a first aid kit.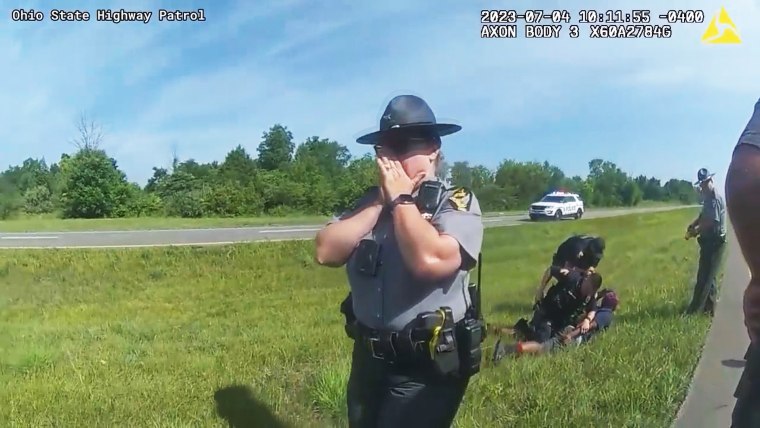 Rose was eventually pulled over and «deputies immediately provided first aid and contacted EMS to respond,» the highway patrol said in a statement.
Rose was charged with failure to comply with a police officer's order or signal, a fourth-degree felony, according to the highway patrol, and faces between six and 18 months in prison. She was arraigned the next day and posted bail on July 7.
A Circleville police K9 unit was involved in the July 4 incident following a request for help from highway patrol, according to a statement from Circleville Mayor Don McIlroy and Police Chief G. Shawn Baer.
"In accordance with Circleville Police Department Policy, a Use of Force Review Board was immediately convened and is reviewing the incident," the statement read. «During the week of July 31, 2023, the results of the Use of Force Review Board will be provided.»
It is unclear if the officer responsible for ordering the dog to attack Rose faces any disciplinary action.
The highway patrol clarified that «the canine involved in the incident is from the Circleville Police Department and not from the Ohio State Highway Patrol.»
Highway Patrol Sgt. Ryan E. Purpura said in a statement: «This case remains under investigation and the Patrol is unable to provide further details at this time.»
jesse kirsch and Will Ujek contributed.