Donald Trump was on hand at the T-Mobile Arena in Las Vegas on Saturday night to witness UFC 290 alongside the president of the mixed martial arts organization, Dana White.
It came as quite a surprise to the UFC fans in the stands when Trump emerged from the tunnel at ground level with White and a group of Secret Service agents.
The 45th President of the United States was his usual social self, interacting with fans by shaking hands and talking for a few moments as he made his way to the Octagon.
CLICK HERE FOR MORE SPORTS COVERAGE ON FOXNEWS.COM
It came as a complete shock to everyone in the building, including the event announcers, as they reacted with surprise when Trump was shown on the big screen. However, Trump is a huge fan of the UFC and a good friend of White, who spoke for him at the 2020 Republican National Convention.
Trump had one of the best seats in the house right next to the Octagon, and was seen taking photos with many around him between fights. Joe Rogan also made it a point to meet with Trump in between his broadcasting duties.
FORMER TRUMP IMPEACHMENT LAWYER WARNS MIAMI JUDGE IN SPECIAL COUNSEL SUIT COULD FACE 'INTIMIDATION'
There was even a UFC fighter, South African Dricus Du Plessis, who jumped over the cage after winning his fight with Robert Whittaker in the middleweight division to shake hands with Trump and White.
Du Plessis knocked out Whittaker in the second round.
For Trump and everyone else watching UFC 290, it was a great main card highlighting Alexander Volkanovski, who moved his overall record to 26-2 and retained his featherweight division belt after knocking out Yair Rodriguez in the main event. .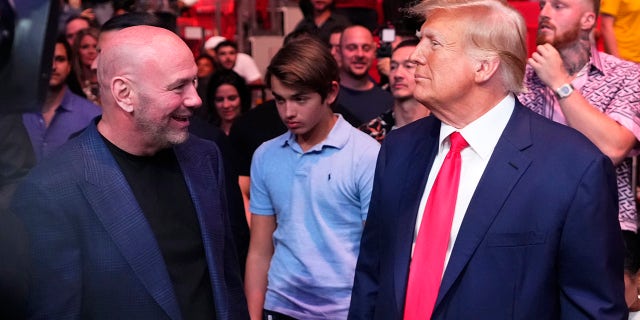 Alexandre Pantoja and Brandon Moreno also had an incredible fight that needed the judges to weigh in after five rounds. Pantoja was ultimately named the winner via split decision, dethroning Moreno as flyweight champion.
It was the third time in Pantoja's career that he had defeated Moreno in the Octagon.
UFC 290 FIGHTER JOSIAH HARRELL WITHDRAWS DUE TO RARE BRAIN DISEASE AHEAD OF FIGHT DEBUT
Dan Hooker also beat Jalin Turner by decision in the lightweight division, while Bo Nickal needed just 38 seconds to knock out Val Woodburn to start the main card in Sin City.
This isn't the first UFC event Trump has attended, as he's been seen at multiple events, including UFC 244 when he was president.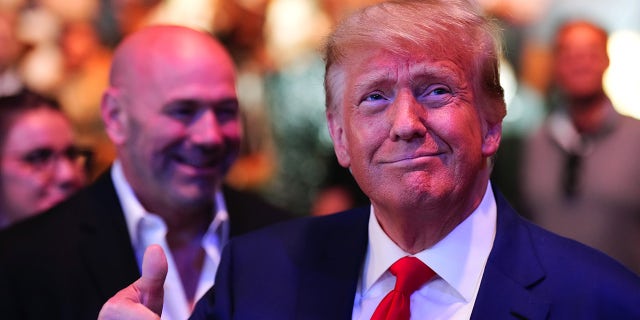 CLICK HERE TO GET THE FOX NEWS APP
Trump has also been seen at UFC 287 alongside Kid Rock and former heavyweight boxing champion Mike Tyson.