The Miami Dolphins clinched a playoff spot thanks to a Jason Sanders 50-yard field goal that put them up against the New York Jets and a New England Patriots loss to the Buffalo Bills.
The Dolphins skated past the Jets with an 11-6 victory to finish the season 9-8. The team needed the Patriots to lose to the Bills and New England did exactly that. Both scenarios helped Miami secure a playoff spot for the first time since the 2016 season.
CLICK HERE FOR MORE SPORTS COVERAGE ON FOXNEWS.COM
Miami had the odds stacked against them, as Tua Tagovailoa was out with a concussion and rookie Skylar Thompson had to lead the team to victory.
Thompson led the team on an 11-play, 36-yard drive. He had a 2-yard pass to Jaylen Waddle that resulted in a 15-yard horseneck tackle penalty to Jets defensive lineman Quinnen Williams. Waddle was hurt on the play and was out of the game.
JOE FLACCO'S SON CAN WEAR THE DOLPHINS JERSEY INSTEAD OF DAD'S JETS THREADS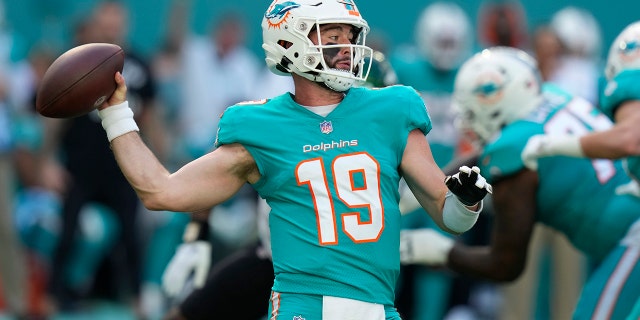 Salvon Ahmed had a 7-yard run that helped Sanders get into position for the go-ahead field goal. The kick put Miami up 9-6. The Dolphins were awarded two points in the Jets' final scramble of that game which resulted in a safety.
Thompson finished 20 of 31 passing for 152 yards. Mike Gesicki led the team with four receptions for 46 yards. Waddle had five receptions for 44 yards.
Joe Flacco started the game for New York when Mike White was sidelined with an injury. Zach Wilson was the backup behind the veteran quarterback.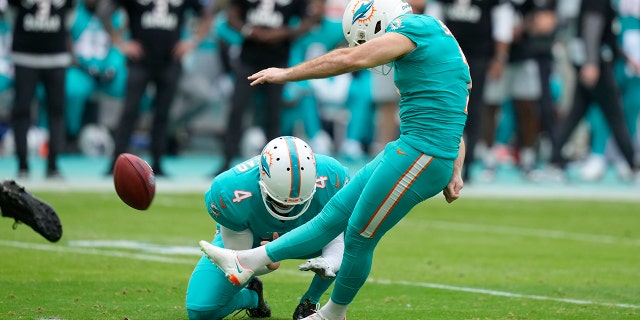 Flacco was 18-for-33 with 149 passing yards. Garrett Wilson led the team with nine receptions for 89 yards.
CLICK HERE TO GET THE FOX NEWS APP
Miami will be the No. 7 seed when the playoffs begin.