Deion Sanders was the voice of all NFL fans Monday night as the Dallas Cowboys faced off against the Tampa Bay Buccaneers in the NFC Wild Card matchup.
On 2 and 8 from the Dallas 42-yard line, Dak Prescott found Noah Brown for a 3-yard gain before taking a hit from Buccaneers defensive end Akiem Hicks. However, the veteran defender was penalized for a foul on the passer on what appeared to be an average football hit.
CLICK HERE FOR MORE SPORTS COVERAGE ON FOXNEWS.COM
Sanders, the Cowboys legend who is the coach of the Colorado Buffaloes, was on the «ManningCast» broadcast of the game and wondered, «Where's the rudeness?»
«This is ridiculous,» he said.
TOM BRADY WISHES ROB GRONKOWSKI WOULD BE ON THE FIELD WITH HIM; FORMER NFL STAR JOKES ABOUT PASSING PHYSICALLY
The penalty moved the ball to the Buccaneers 42-yard line and on the next play running back Tony Pollard ran for 18 yards and a first down.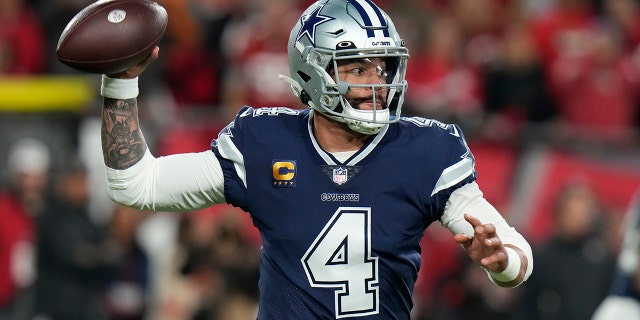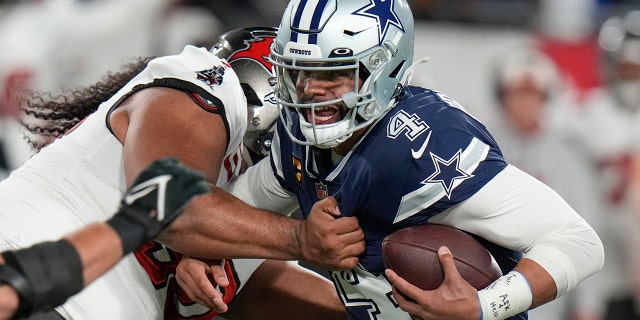 Prescott would then find tight end Dalton Schultz for a 22-yard touchdown pass to put the Cowboys on the board first in the game. Brett Maher missed the extra point, leaving Dallas up just 6-0 in the first quarter.
CLICK HERE TO GET THE FOX NEWS APP
The Tampa Bay-Dallas matchup was the last game on record in the wild card round. The winner of the game will hit the road to play the San Francisco 49ers.