St Louis Blues Goalie Jordan Binnington has received a two-game suspension and will lose nearly $65,000 of his average annual salary after he was ejected from Wednesday night's game against the Minnesota Wild for punching forward Ryan Hartman in the face.
The 29-year-old goalkeeper was sent off after receiving a match penalty during the second half of the Blues' 8-5 loss to the wild after he came out of the box and hit Hartman in the face with his blocker following Hartman's power play goal.
The incident led to a massive clash and even knocked Wild's goaltender Marc Andre Fleury out of the net, but officials separated the two before a secondary fight could break out.
FORMER NHL GOALKEEPER SUSPENDED 5 GAMES OF SWEDISH HOCKEY LEAGUE AFTER THROUGH WATER BOTTLE AT REFEREE
«On his way to celebrate with his companions, [Hartman] makes light, incidental contact with Binnington, who was sliding out of his crease towards Hartman», NHL Department of Player Safety he said in a video explanation of the ruling.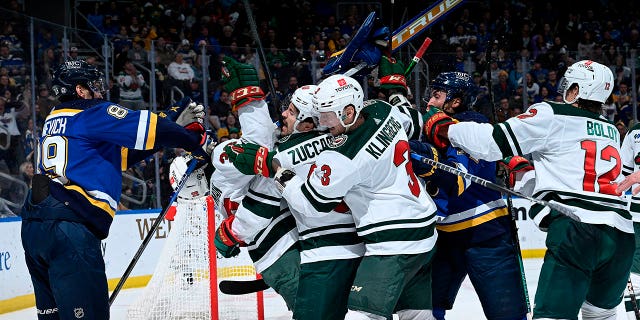 «Having finished the play long ago, and as the Wild celebrates his goal, Binnington leaves the area of ​​his crease, approaches the unsuspecting Hartman and his teammates, raises his blocker and club to head height and slams into Hartman in the face with the blocker».
CLICK HERE FOR MORE SPORTS COVERAGE ON FOXNEWS.COM
Binnington was suspended Thursday for two games without pay and will lose $64,864.86 of his average annual salary, the league announced.
Binnington said Friday that he had «expected less» than his two-game suspension, adding that he doesn't think he contacted Hartman.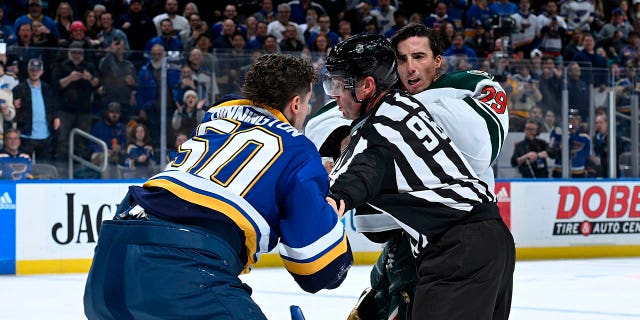 «I was just reiterating that he knows how to embellish a play,» he said. «I watched the video multiple times. I never got in touch with him.»
CLICK HERE TO GET THE FOX NEWS APP
The Blues called up prospect Joel Hofer in Binnington's absence. He will make his third NHL appearance on Friday against the Washington Capitals.
«I've been waiting for the call all year,» Hofer said.
Associated Press contributed to this report.