The Arkansas Razorbacks football team will have one less player competing for starting quarterback KJ Jefferson's backup job this summer.
Redshirt junior transfer Kade Renfro was dropped from the squad on Thursday following allegations of sexual assault and harassment that were posted on social media earlier this week.
CLICK HERE FOR MORE SPORTS COVERAGE ON FOXNEWS.COM
«Upon learning of the allegations against a student-athlete earlier this week, we immediately informed the University's Title IX office of the allegations,» the university's athletic department said in a statement. «The student-athlete is no longer a member of the football team.»
The school added that it has «notified the appropriate offices on our campus» about the allegations made against Renfro.
ISAAC WILSON, BROTHER OF EX-BYU QB ZACH WILSON, COMMITS TO RIVAL UTAH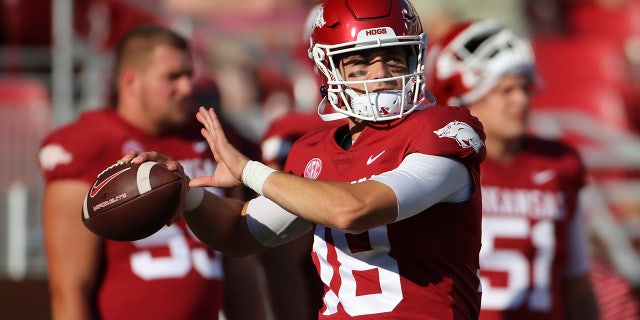 An anonymous Instagram account laid out the allegations against Renfro, including an alleged long history of sexual assault and harassment spanning years, according to CBS Sports. The account has since been deleted. Renfro has since deleted his social media activity in the wake of the allegations.
The photos only showed a woman with multiple bruises on her neck, as well as alleged cases of assault and harassment. The initial account where the allegations surfaced was called «Kade Renfro is a rapist!»
He has not been charged with any crime.
CLICK HERE TO GET THE FOX NEWS APP
Renfro was a standout high school football player in Stephenville, Texas, committing to Ole Miss in 2020. He transferred to Arkansas in 2021 and injured his knee. He reinjured his knee last year and didn't play.