Mike Trout may be one of the best players in baseball to ever step between the lines, but his inability to stay healthy for a full season reared its head again Monday night against the San Diego Padres.
The three-time AL MVP left the game in the eighth inning with a sprained left wrist. He fouled a 0-1 shot from Nick Martinez and appeared to sprain his wrist in the process. Los Angeles manager Phil Nevin and a coach came out to see him and he left the game.
CLICK HERE FOR MORE SPORTS COVERAGE ON FOXNEWS.COM
«I just took a swing and it felt kind of uncomfortable,» Trout told reporters after the game. «I'm just waiting to get some scans and hope for the best.
«It doesn't feel very good. I mean, there's no two ways about it. Hopefully just a wrist sprain. I can't describe the pain I felt. I never felt it before, never, before this. I never had wrist problems or anything. Just weird stuff.»
GERRIT COLE SHOWS HOW MUCH THE YANKEES HOPES AARON JUDGE CAN RETURN AFTER THE ALL-STAR BREAK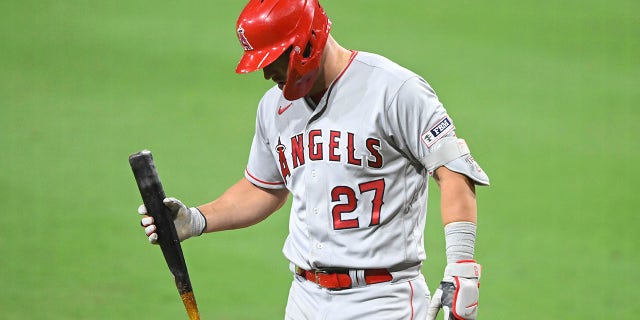 Trout had been healthy all season before leaving the game. He was named an All-Star for the 11th time in his career.
Jo Adell could be the Angels' next man in case Trout has to go on the disabled list.
«We've talked all the time about our depth,» Nevin said, via MLB.com. «It's been tested, and we've even added to it. We've lost some big pieces. We've talked about what the next one looks like.
«Same thing in this case — giving someone a chance to get more looks and get more bats depending on Mike's test result. So we'll see how it goes.»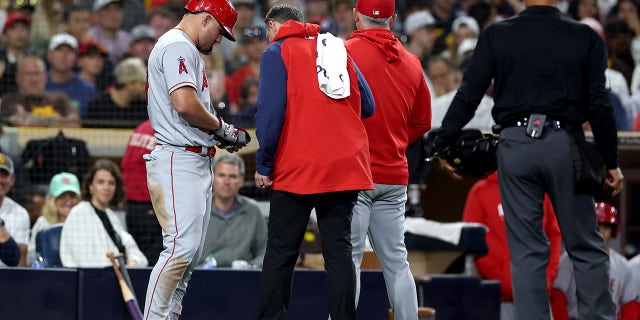 CLICK HERE TO GET THE FOX NEWS APP
Trout finished the game 2 of 4 in the Angels' 10-3 loss to the Padres. In 81 games, he's hitting .263 with an .862 OPS and 18 home runs. He had a 40-homer season in 119 games last year.
Associated Press contributed to this report.