Serbian police said early Friday they had arrested a suspect in a series of shootings that killed at least eight people and wounded 14, the second such mass shooting in the nation in two days.
In a statement, police said the man, identified by the initials UB, was arrested near the central Serbian town of Kragujevac, about 60 miles south of Belgrade.
The shooting came a day after a 13-year-old boy used his father's weapons to kill eight classmates and a guard at a school in Belgrade.
The bloodshed shocked a Balkan nation scarred by wars but unaccustomed to mass murder.
Friday's arrest followed an all-night search by hundreds of police officers, who cordoned off an area south of Belgrade where the shooting took place Thursday night.
The attacker randomly shot people in three villages near Mladenovac, about 30 miles south of the capital, according to state broadcaster RTS.
"I heard some tak-tak-tak sounds," recalled Milan Prokic, a resident of Dubona, a village near the city of Mladenovac. Prokic said that he first thought that the villagers were shooting to celebrate a childbirth, as is the tradition in Serbia and the Balkans.
But it wasn't that. Shame, great shame,» Prokic added.
Serbian Interior Minister Bratislav Gasic called Thursday's shooting «a terrorist act,» state media reported.
Before the second shooting, Serbia spent much of Thursday reeling from its first mass shooting in ten years. The students, many dressed in black and flowered, filled the streets around the school in central Belgrade as they silently paid tribute to their slain classmates. Serbian teachers' unions announced protests and strikes to warn of a crisis in the school system and demand change.
On the same day, authorities moved to push for gun control, as police urged citizens to lock up their guns and keep them away from children. The government ordered a two-year moratorium on short-barreled weapons, stricter control of people with guns and shooting ranges, and harsher sentences for people who allow minors to obtain guns.
A registered gun owner in Serbia must be over 18 years old, healthy and have no criminal record. Weapons must be kept locked up and separate from ammunition.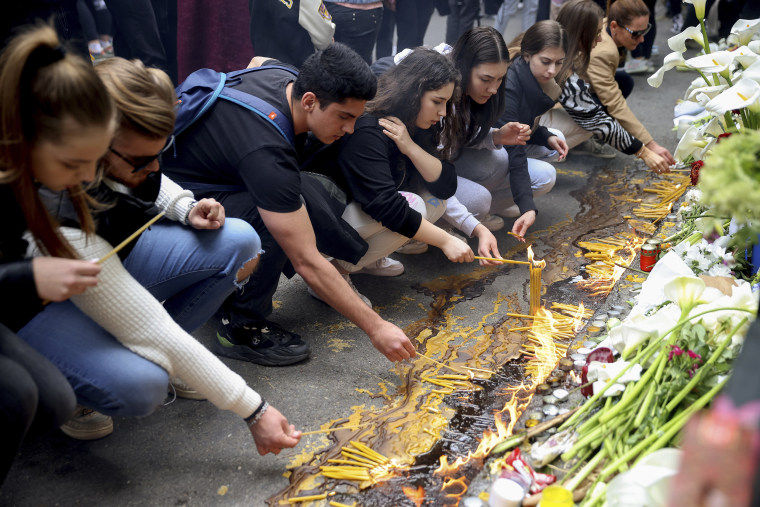 Although Serbia is littered with weapons left over from the wars of the 1990s, Wednesday's school shooting was the first in the country's modern history. The last mass shooting before this week was in 2013, when a war veteran killed 13 people in a village in central Serbia.
The Wednesday morning shooting at the Vladislav Ribnikar primary school also left seven people hospitalized, including six children and a teacher. A girl who was shot in the head remains in a life-threatening condition, and a boy is in serious condition with spinal injuries, doctors said Thursday morning.
Authorities have said the shooter, whom police identified as Kosta Kecmanovic, is too young to be charged and tried. He has been committed to a mental institution, while his father has been detained on suspicion of endangering public safety because his son took arms.
Gun culture is widespread in Serbia and elsewhere in the Balkans: the region has one of the highest guns per capita in Europe. Guns are often fired into the air at celebrations, and warrior worship forms part of national identities.
Experts have repeatedly warned of the danger posed by the number of weapons in the highly divided country, where convicted war criminals are glorified and violence against minority groups often goes unpunished. They also point out that decades of instability stemming from the conflicts of the 1990s, as well as ongoing economic difficulties, could trigger such outbreaks.
Dragan Popadic, a psychology professor at the University of Belgrade, told The Associated Press that the school shooting exposed the level of violence in society and caused deep shock.
"People have suddenly been shaken by the reality and the ocean of violence in which we live, how it has grown over time and how much our society has been neglected for decades," he warned. «It's like lanterns have been turned on over our lives and we can't mind our own business anymore.»